"The work that we do, is a reflection of who we are." - Joshua Ferris

A little background on Josh Ferris, and how Ferris Building came to be ...
Joshua Ferris started in the building industry thanks to his father Ross Ferris. Ross is now a retired builder after 45 years of gaining experience. Ross' influence of a passion for building on Joshua was not realized until he finished his surfing career and started to work along side others in the building industry.
Read More ...
Joshua quickly went onto gaining a recognized carpentry trade qualification after spending over six years on and off working alongside Ross in between his surfing days.
Joshua having a competitive nature to be the best went onto quickly gain his builder's licence and the start of his real desire and passion to build high quality residential homes.
Ferris Building Pty Ltd was started by Joshua in 2007 to optimise his passion for building custom built residential homes. Ferris Building is proud to have grown into a professional team all sharing a passion for building and been awarded in the past by industry and pier associations for its high quality building works.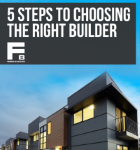 5 Steps to Choosing the Right Builder - Our Ebook
"Given the time and money involved in the typical building project, it's essential that you select the right builder for the task."
We have released a Free E-Book encompassing the 5 steps to choosing the right builder.
Click on the Image to download your copy now!